Did you lose or remove the essential files from your USB? If yes, then this article is for those people who lost their files from a USB flash drive. Basically, your data or file is inside the USB drive and when you check again then you will realize that the files are deleted. The reason behind the deletion of files from USB drives is accidental file deletion or malware infection and hardware failure. From this article, you will be guided on How to Recover Deleted Files From USB Flash Drive?
There can be one more reason that when the files are transferring to your USB drive and you unplugged the USB drive while some of the files were transferring. And if you want to get back those files that can be very important for you then you need to read this article. So, without wasting any time let's get started.
Reason for Data Lose From USB Drive
There are many kinds of reasons which cause something and that will delete all the files and data. The problem will create and then forces the PC to delete files from the USB drive.
Data Fragmentation
Unsuitable Condition
Software Bug
Accidental File Deletion
Issue With Supplying of Power to USB Ports
Malware Infection
Hardware Failure
Method 1: Recover Deleted Files From USB Flash Drive Using CMD
Step 1. First of all, you have to open the CMD by searching in the Start menu, and don't forget to run it as administrator.
Step 2. When you launch the CMD then you have to copy and paste chkdsk X: /f then click on the Enter button after that replace the letter X with the letter of the USB drive.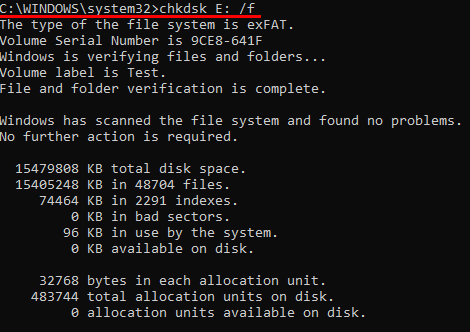 Step 3. Now, copy and paste this command ATTRIB -H -R -S /S /D "drive letter":*.* in the CMD. You have to type the name of the drive in the section of "drive latter"

Step 4. At last, once you entered the command then hit the Enter button on the keyboard.
Method 2: Recover Deleted Files From USB Flash Drive Via Software
If the above method doesn't work for you then try this method and I hope it would work for you. So, in this method, we have to take the help of Disk Drill. This software will recover all the deleted files from the USB flash drive. It can also recover documents, media files, and messages in an easy and quick way. Follow the below method carefully and follow the steps same as it is.
Step 1. Download the software on your PC.
Step 2. Once you download the Disk Drill then connect the USB drive to your PC.
Step 3. Then open the software and select your USB name after that click on the Search For Lost Data.
Step 4. Now, you will get all the files that you lost then simply select the files which you want to recover.
Step 5. Finally, click on Recover.
Final Words
It was all about How to Recover Deleted Files From USB Flash Drive? I hope this guide was very helpful for you. From this article, you will get something good. This was step by step guide on the that you were searching about it. Further, this is the right place where you can easily solve your problem. After following these steps I hope you will not face any kind of problem. However, If you faced any kind of problem and if you have any type of suggestion then do comment.
Explore More: