If you are trying to protect our notes it really matters if someone accesses them. Every platform or any other thing where you can note down your private things then they should have password protection, which will help to get out of the situation which you do not want to face it. In this article, you will be guided to learn How to Lock Notes on Your Mac?
Notes are the best place to write down important things. Even it is the easy way that everyone is jotting down their ideas. You can take or write anything it can be your bank information, the password of your accounts, essential web browsing, and many more. However, if you are away and you can't access your Notes then for those kinds of conditions you have to set up iCloud. Which will help you to keep updated on your Notes.
Protection is important for everything which seems to you too special. Sometimes you may jot down your personal details that you don't want others to access. For that kind of circumstance, you have to have a layer of protection on your Notes. That layer can be a password that will surely save your personal information from others. This is the best way to keep your notes safe. If you want to lock your Notes then you need to read this article. So, without wasting any time let's get started.
How to Lock Notes on Your Mac
Step 1. Open the Notes app then select Notes from the menu tab after that click on Preferences.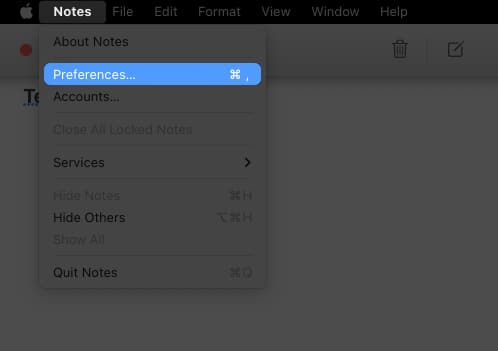 Step 2. Now, you need to select an account from the section of Locked notes.
Step 3. Next, type the password that you want then enter the same password again to verify it. You have to enter a hint whenever you forget that password after that hint will help you.
Step 4. At last, click on the Set Password.

How to Set Password to Your Notes
Step 1. Firstly, launch your Notes app then find and select that note that you want to protect with a password.
Step 2. Click on the Lock icon on the right side then tap on the Lock Note after that type the password for your note and use Touch ID to lock it.
How to Delete Lock of Notes If You Forgot the Password
There is a question that everyone trying after if they set passwords for their notes. However, if you have set a new password for your Notes on Mac then that password will be used for the notes that you will use in the future. When you wish to reset the password then select Notes and head towards Preferences after that Reset Password.
Once you reset the password and choose a new password then don't forget to select or type a hint for you. Basically, a hint will appear when you have entered 3 times password continuously wrong. Unluckily you can not unlock the Notes with the help of a hint then it has simply to unlock. To unlock you have to take the help of your iPhone device, you need to unlock it via Touch ID. Once you have unlocked the Notes after that copy or type the content which is inside that note into a new note.
Final Words
It was all about How to Lock Notes on Your Mac? I hope this article is very helpful for you to lock your Notes on your Mac. From this article, you will get something good. This was step by step guide that you were searching for it. Further, this is the right place where you can easily solve your problem. After following these steps I hope you will not face any kind of problem. However, If you faced any kind of problem and if you have any type of suggestion then do comment.
Explore More: